---
Music by composer John Pitts from Bristol, England

Reviews
Sheet Music
Buy sheet music (paperback books) here or from Amazon.
Scores are also available to view and print right now online from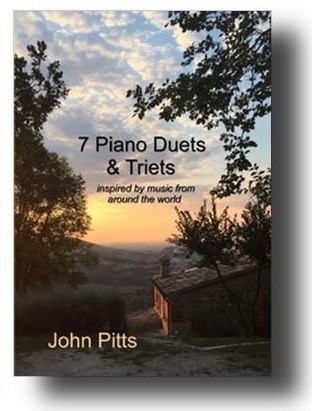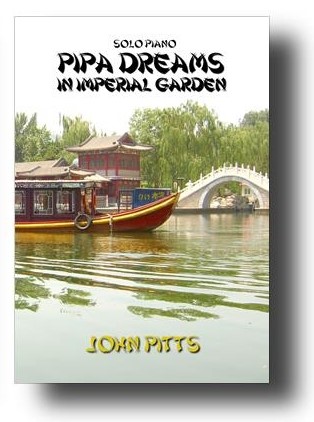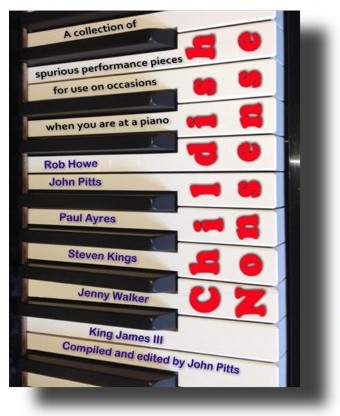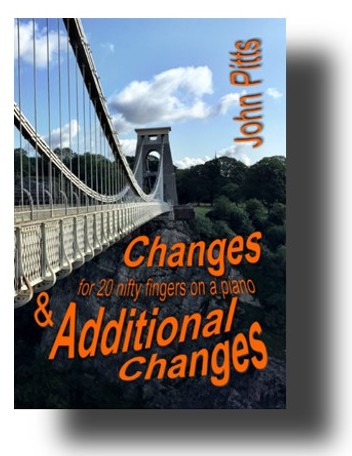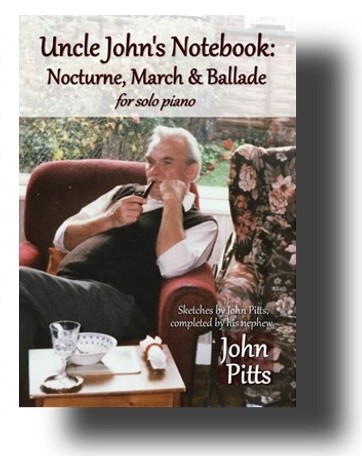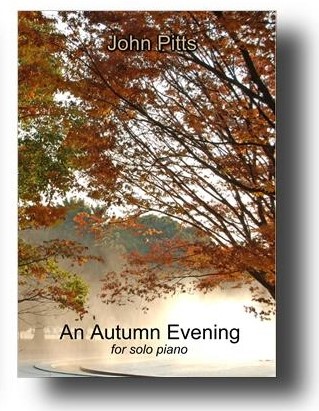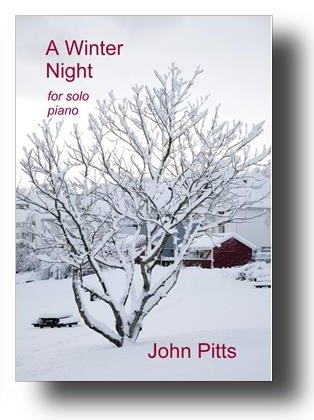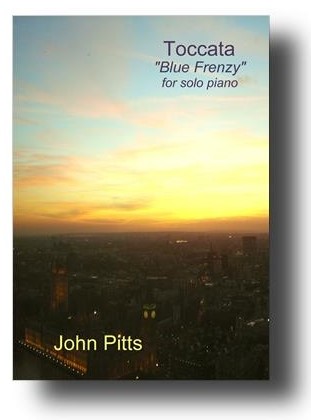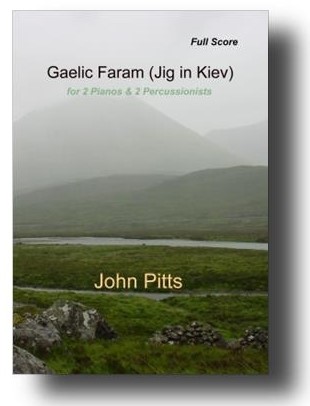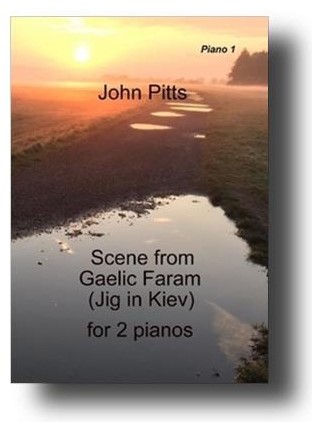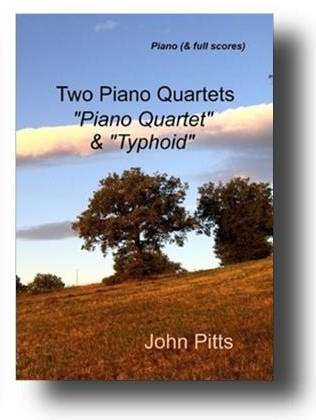 Recordings
Listen, order or download some intensely pleasant music (and some less pleasant)!









John Pitts is a composer, teacher, and author of the unusual 258-page book How to Play Indian Sitar Raags on a Piano (2016), and Indian Ragas for Piano Made Easy (2nd edition 2020, first published 2018) for fledgling pianists. In 1994 he spent a year in Pakistan, which led to a number of chamber pieces heavily influenced by Indian classical music, including Raag Gezellig, the piano duet composed for the Valberg International Piano 4 Hands Competition 2011.
He composes mostly music for piano – stylistically melodic, motoric, motif-driven, jazz-tinged, post-minimal impressionism – in recent years with a particular interest in various traditional world musics. His 2009 album "Intensely Pleasant Music: 7 Airs & Fantasias and other piano music", performed by Steven Kings, received "delicious" reviews (see below). His virtuosic pieces for two pianists 7 Piano Duets & Triets inspired by music from around the world and Gaelic Faram Jig in Kiev have been performed at concerts, competitions and festivals in Armenia, Austria, Australia, Denmark, Estonia, France, Germany, Italy, Netherlands, Norway, Poland, Russia, Spain, Sweden, Ukraine, United Kingdom & USA, including in 2015 a concert dedicated to his music in Perpignan Conservatoire's Festival Prospective 22ème siècle.
His 2009 album Intensely Pleasant Music: 7 Airs & Fantasias and other piano music by John Pitts, performed by Steven Kings, was released to critical acclaim - receiving a 5 star review in Musical Opinion Magazine, several 4 star reviews including the Independent Newspaper, with descriptions such as "beautiful, moving and relaxing", "delicious", "lovely", "colossal… stunning and seriously impressive", "great character and emotional integrity", "exciting stuff all round… toes - prepare to tap,""Prokofiev's Toccata rewritten by Steve Reich", "Keith Jarrett, Sun Ra and Bud Powell", "Bach and Scarlatti all the way through to Einaudi and Nyman, taking in Scott Joplin and Erik Satie", "Debussy, a little Messiaen, `La vallée des cloches' (Ravel's Miroirs), but some [tracks] wear their modal, English-music origins with pride… Vaughan Williams and Graham Fitkin." Oleg Ledeniov of MusicWeb International wrote "There are many pleasant discoveries - melodic, rhythmic, sonic - but almost no standard or predictable moves or clichés - at least, for me. The listener doesn't have to work hard to get into the music: a kind of minimalistic "submerge and relax" attitude will definitely do the trick. This is a colorful and interesting set by a talented composer. And if harmony is your thing, you'll find much to admire here."
John studied Music at Bristol and Manchester Universities, studying composition under Adrian Beaumont, Geoff Poole, John Casken and John Pickard, also receiving tuition from Raymond Warren and Robert Saxton, and briefly from Diana Burrell in a COMA scheme. "Typhus" and "Nuts & Bolts", two of his chamber pieces, were shortlisted by the Society for the Promotion of New Music. In 2003 John won the Philharmonia Orchestra Martin Musical Scholarship Fund Composition Prize, his Piano Quartet being performed by the Fidelio Quartet in the final stage of the competition at the Royal Festival Hall, and subsequently in Nottingham, London and Oxford.
He has written music for Christian worship, with two hymns on Naxos CDs recorded by his eldest brother composer Antony Pitts and Tonus Peregrinus, including one in Faber's The Naxos Book of Carols book. In 2006 Choir & Organ magazine commissioned I will raise him up at the last day for their new music series. Secretary of Severnside Composers Alliance (2003-2015), with four pieces released on SCA CDs on the Dunelm label. John has also written music for four plays and two short operatic works - Crossed Wires (Huddersfield Contemporary Music Festival 1997), and 3 Sliced Mice (commissioned by Five Brothers Pasta Sauces). MD of four Bristol Savoy Operatic Society productions, arranging Pirates of Penzance, Gondoliers and Iolanthe for small band, and Associate Conductor of the Bristol Millennium Orchestra since 2010.
Gilbert & Sullivan
John has conducted four Bristol Savoy Operatic Society productions, arranging Pirates of Penzance, Gondoliers and Iolanthe for reduced band. Click here for details of scoring and how to hire parts.
Videos

(from 42mins32) "Raag Gezellig"
performed by Duo Bohemes, Dranoff 2 Piano Competition, Miami, USA, May 2013


"Raag Gezellig"
performed by Lilit Mkrtchyan and Nune Asatryan
A.Khachatryan Museum, Yerevan, Armenia 2012


Jig in Kiev - "Gaelic Faram Jig"
performed by Dmytro Tavanets, Oleksandra Zaytsev, Yevhen Ulyanov and Oleksandr Tomchuk.
Kiev Chamber Music Session Festival, Ukraine 2012


"Are You Going?" for piano triet,
performed by Dmytro Tavanets, Oleksandra Zaytseva and Antoniy Baryshevkiy
Kiev Chamber Music Session Festival 2010


"Changes for 20 nifty fingers"
performed by Dmytro Tavanets, Oleksandra Zaytseva
Kiev Chamber Music Session Festival 2009


Playlist of videos of a concert of seven pieces by John,
Conservatoire à Rayonnement Régional de Perpignan,
Festival Prospective 22ème siècle, France, March 2015


"Glittering Gamelan"
prepared piano duet performed by Emilie Carcy & Matthieu Millischer,
Festival Prospective 22ème siècle, France, March 2015


"Joyful Balaphony"
prepared piano duet performed by Emilie Carcy & Matthieu Millischer,
Festival Prospective 22ème siècle, France, March 2015


"Typhoid Piano Quartet"
Ana Laurichesse, Marie-Camille Cazenove, Charlotte Chollet & Melody Giot
Festival Prospective 22ème siècle, France, March 2015


"Are You Going?" for piano triet
Emilie Carcy, Matthieu Millischer & Ana Laurichesse,
Festival Prospective 22ème siècle, France, March 2015


"Changes for 20 nifty fingers"
performed by Emilie Carcy & Matthieu Millischer,
Festival Prospective 22ème siècle, France, March 2015


"Raag Gezellig" performed by Emilie Carcy & Matthieu Millischer
Festival Prospective 22ème siècle, France, March 2015


"Raag Gezellig" performed by Emilie Carcy & Matthieu Millischer
Théâtre de l'archipel, Perpignan, France 2012


"Changes for 20 nifty fingers"
performed by Steven Kings and John Pitts
Bristol Music Club 2012


All website content copyright ã